This year we're extremely honored to announce that Chauvet DJ along with Image Marketing West has awarded us as Dealer of Year for 2017! We strive everyday to not only deliver the best customer service in the DJ and Pro Audio industry, but to also bring top notch, long lasting, innovative products to our stores like Chauvet DJ's for you everyday. So let's get to the new products, videos and full review below- but first, please oggle our trophy!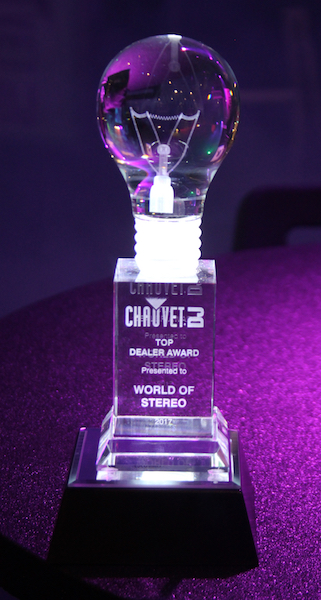 Freedom Flex H4 IP-
First we took a look at Chauvet's newest pro uplight, the Freedom Flex H4 IP system. The "IP" stands for Ingress Protection, which is an international standard marking for products designed to protect against dust, water and the elements to make it the perfect pro solution for indoor AND outdoor lighting needs. It contains four 10 watt pro grade LED's with their patented hex chip technology, which gives you SIX color mixing options: red, green, blue, amber white and uv. The extremely robust design also features a huge improvement over their other rechargeable uplights- a removable, replaceable battery. The battery will give you 20 hours on a single color, 8 hours of color mixing and it can be replaced on the fly with seconds of downtime!
Order link: Coming soon!
Cumulus Low Lying Fog Machine-
The new Cumulus might have been one of my favorite new products from Chauvet DJ, if not only for it's simplicity. It requires NO dry ice, unlike all of the other professional grade low lying fog machines. It only needs a little fog juice and distilled water and comes equipped with a variable speed, DMX controllable fan to give you the same fast fog cloud effect for a "dancing on the clouds" look or you can slow it down for the "creepy crawly" slow moving thick fog, perfect for haunted houses. Another distinct advantage is it can run continuously due to it's distilled water agitation tech and can begin cranking out fog as soon as it's powered up! It comes in a road ready case with wheels, so don't miss out on one of these for your event production house or next wedding gigs!
Order link: https://worldofstereo.com/chauvet-dj-cumulus-fog-m...
Freedom H1 Lighting System-
The Freedom H1 system is sold in a 4 pack with the case and charging system for it's on-board rechargeable battery. It's also capable of wireless DMX programming and the removable diffusion system, coupled with the Chauvet's patented hex chip LED technology (red, green, blue, amber, white and uv + color mixing) make it an extremely versatile light. It's built in stand also has an adapter thread to allowing you to add a clamp for hanging on truss or alternatively it has a magnet built right into the stand so it can attach to anything metal! These handy little portable lights are perfect for lighting centerpieces, truss, dj setups and much more.
Order link: https://worldofstereo.com/chauvet-dj-freedom-h1-x4...
There are a few other brand new, dare I say- GAME CHANGING lights that Chauvet DJ has on the way that we can't announce just yet. But check back soon and we'll be sure to update you!
Recent Posts
Our good friend and long time customer DJ Kue did an amazing review of the DDJ-1000 co …

Portablism has reached a new pinnacle with new products being released all the time and scratch DJ's …

World of Sacramento recently hosted our first Skratchpad, Sunday March 18th and it was a huge succes …